Welcome to the official website of IAN BAIRNSON.
He may not be a household name - but Ian's impact on the Rock and Pop world has been profound. Clearly one of the most respected and sought after guitarists in the industry, Ian Bairnson has been playing on hit records and making great music for years.
Many have tried to describe his technique, characterize his style, and label his music. Some compare him to such guitar legends as Page, Gilmour, and Clapton. Brilliant, innovative, fluid and imaginative are all fitting adjectives to describe his guitar playing.
Ian's accomplishments are not limited to the world of Top 40 and album charts. One really begins to appreciate his talent when we see how his peers judge him. Whether in the studio or on the stage, Ian is in demand. He was courted by COCKNEY REBEL, has played and even sung on KATE BUSH records, and helped MICK FLEETWOOD in his solo career. He has played on more than 100 albums with artists with diverse styles ranging from the Japanese Pop of ANRI, the country/pop tunes of KENNY ROGERS, to the contemporary Jazz of STANLEY CLARKE and STEVE GADD. He played live with BEVERLEY CRAVEN, STING, JOHN PARR, MICHAEL McDONALD and of course THE ALAN PARSONS PROJECT.
When you experience Ian playing live, it becomes clear that he was born to play. His gutsy guitar playing commands the attention of your ear. One of PILOT's crew during the band's headlining 1975 tour may have put it best "That bloody guitarist...he's amazing!" Yet, who really is this soft-spoken Scot that plays a mean guitar? Want to know more? Well, TURN IT UP! and click those buttons!

A Pilot Project takes off!
Once Ian returned to the UK, he and David Paton reformed Pilot. As a first project out the gate, they recorded A Pilot Project, a stunning album in tribute to the late Eric Woolfson.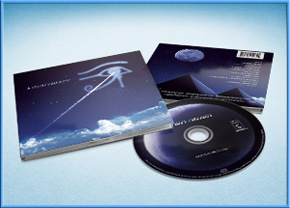 You can find out more about this project and purchase the limited edition digipak CD by visiting:
apilotproject.com.